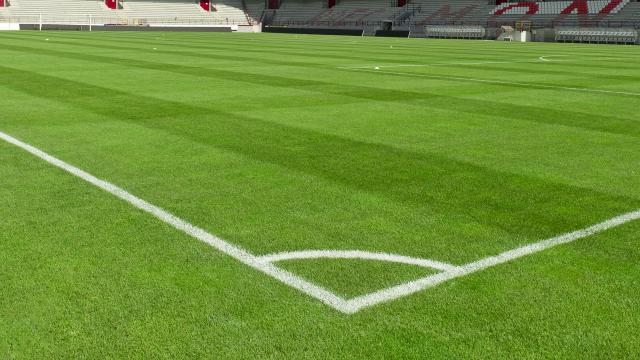 Sport fields
Thanks to the know-how in the field of fertilization, structural improvement and soil fertility, DCM is able to offer an unequalled comprehensive product range for a magnificent sports field (football pitch, golf course, baseball field, rugby field), which is playable at any time.
The DCM fertilization scheme guarantees a stronger turf with a better resistance to intensive playing and other stress factors.
STANDARD FERTILIZATION SCHEME
dosage in kg per field
Mid-March
(week 10)

DCM START

NPK 18-3-3 + 2 MgO - MINIGRAN®

high nitrogen content (N) for a strong growth effect
regrowth of the turf after winter
recovery and fast covering of bare spots after overseeding

250
When overseeding
May - June

DCM START

NPK 18-3-3 + 2 MgO - MINIGRAN®

300

DCM VIVIFOS®

NP 4-30 - MINIGRAN®

contains organic phosphorous sources for extra stimulation of the rooting
for quicker recovery of the turf after overseeding
for a stronger turf and less playing damage
dosage and application depending on the soil analysis

August

DCM SPORT-MIX

NPK 8-3-12 + 3 MgO - MINIGRAN®

fertiliser formula with comparatively more potassium (K) than nitrogen (N)
continuous steady growth of the grass
turf with a better resistance to drought and other stress factors

150 - 200
September - October

DCM GRASS-CARE

NPK 6-3-20 + 3 MgO + Fe (EDTA) - MINIGRAN®

potassium (K) with long-term action and extra magnesium (MgO) and iron chelate (Fe)
to harden off the grass before winter
for a deep green grass colour all through winter

250
A growing number of sports field owners and municipalities decide to use products that are environmentally friendly and fully organic! With the DCM Eco-Line you can fertilize your turf all year round in a 100 % ecological manner, without quality loss.
Discover also our other products for turf care: