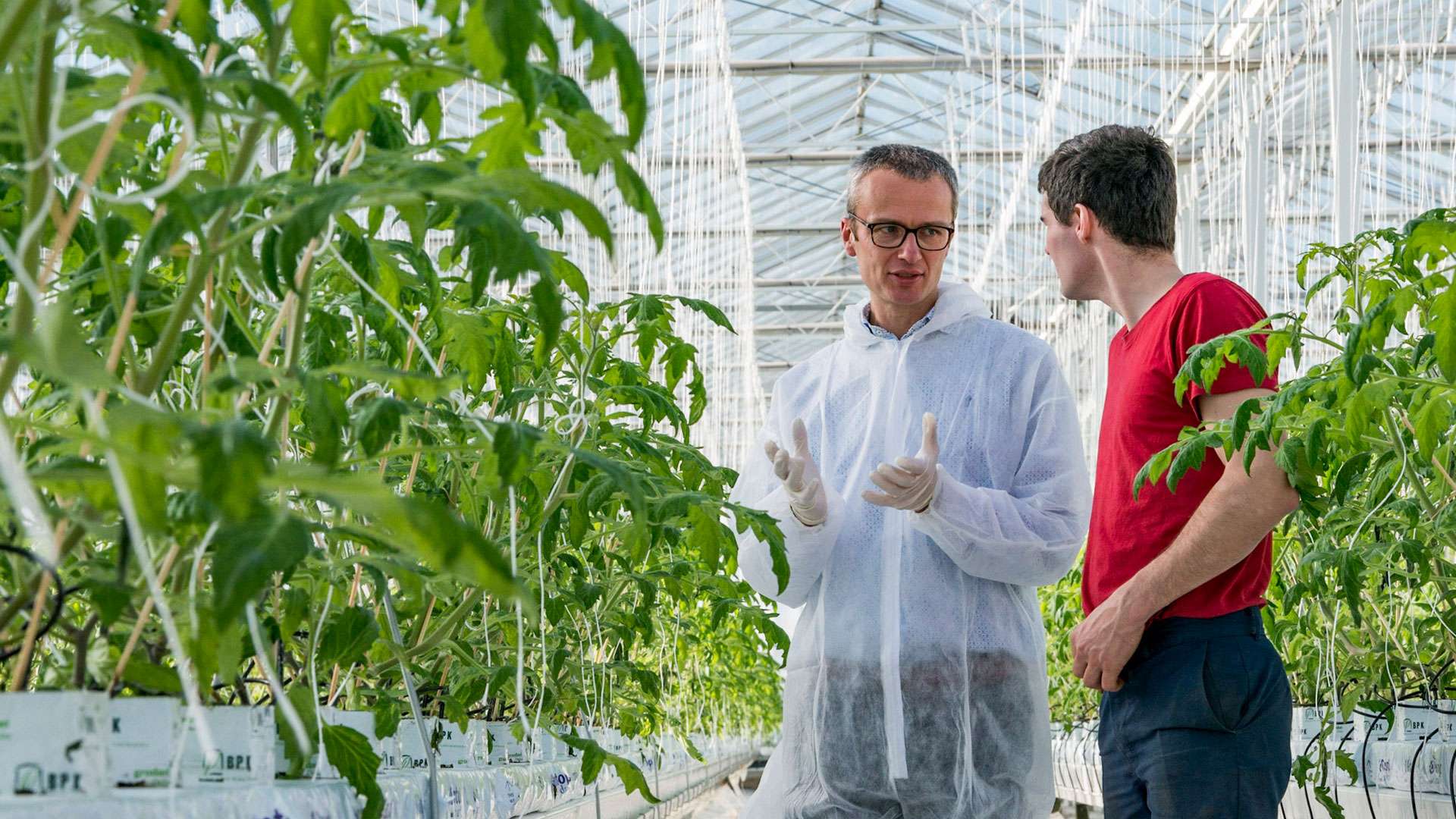 Sustainable innovation as the supreme good
In order to achieve our mission, our R&D department and the research centre Scientia Terrae vzw collaborate day after day to test our products and develop new innovations. Thanks to their intensive analysis, we only bring the most efficient solutions on the market. This means that the environmental impact is as low as possible, which is exactly what we want to achieve: products that benefit nature both in the short and the long term.
Our MINIGRAN® technology, used for the production of our organic and organo-mineral fertilisers, is a good example of product innovation. We developed mini-granules that contain all the nutrients derived from organic raw materials (nitrogen, phosphorus, potassium, magnesium and trace elements).

These nutrients are gradually released by microbial activity as soon as the fertiliser granules reach the soil. Microbial activity is closely linked to plant growth, which means that the nutrients in our products are only released when the plant really needs them.
Our soil improvers and potting soils are continuously optimized with appropriate organic fertilisers, lime and other valuable components depending on the application or plant, for optimal soil fertility. As a result of our own research and tests, DCM has also launched two biostimulants that increase plant vitality and root system activity.
Every year, we renew an entire product line, in order to always bring the most sustainable solution to the market. In recent years, we have launched the following innovations: a brand new line of liquid fertilisers containing 98% natural ingredients and 2% micro-organisms and trace elements, so that these products can also be used for organic gardening; a wide range of potting soils that consist now of 100% natural raw materials; grass seed mixtures composed of high-quality varieties that are, for example, more resistant to hot, dry summers. In the 2022 season, we will focus on our flower seed mixtures, which attract beneficial insects and thus contribute to biodiversity in our gardens.
Did you know?
Did you know that we collaborate, through our plant clinic, with more than 20 research departments of universities and testing stations in Belgium, the Netherlands and abroad? Practical tests on grower's premises and on sports fields in the 45 countries in which we are active, are also very important to continuously improve our products, as well as the internal and cross-border sharing of the knowledge that our DCM advisors acquire on this occasion.
Efficient products for a sustainable effect
According to DCM, efficient products are also the most sustainable, because the more efficient the effect of a product, the lower the loss of nutrients and the better for the environment. In collaboration with nature, our fertilisers provide strong plants, but also a better soil structure and – thanks to the various elements contained in our fertilisers – a more diverse soil life. Our knowledge lies in the biodiversity raw materials in order to obtain a balanced fertilization. But what exactly makes our plant food so good for the environment?
Raw materials of organic origin: we produce our fertilisers using elements from nature, tailored to nature.
Continuous and long-lasting effect: thanks to our intensive research and the specific composition of our products in MINIGRAN®, our products release their nutrients in a controlled and gradual way over a period of 75 to 100 days. The precise combination of raw materials ensures a smooth growth.
The supply of nutrients is perfectly adapted to the demand due to the release by microbial activity: before releasing the appropriate nutrients, the organic matrix of our fertiliser granules must first be decomposed by the microbial life in the soil. This way, we ensure that our fertilisers make their nutrients available to the plant roots at exactly the right time.
Minimal leaching: since the nutrients in our products are only released when the plant really needs them, they are not lost through leaching. Moreover, they cannot contaminate ground and surface water.
1 pellet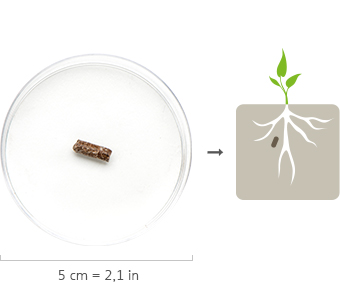 23 crumbles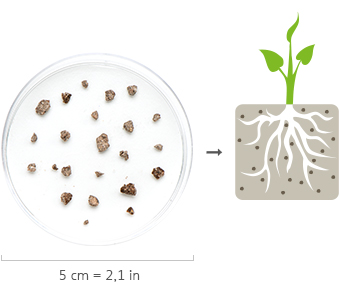 94 MINIGRAN®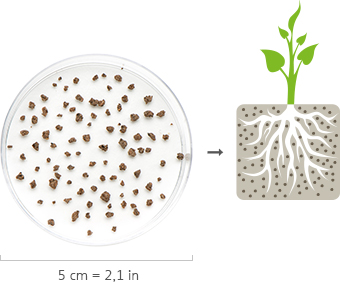 Did you know?
Did you know that our unique MINIGRAN® fertilisers ensure, thanks to the small format of their granules, an up to 60% better distribution in comparison with organic fertilisers of other manufacturers, which increases their efficiency. Applied on lawns, for example, this means that the granules dissolve faster and penetrate the soil instead of being picked up while mowing.
SDG 12.2:
Ensure sustainable management and efficient use of natural resources.
SDG 12.5:
Significantly reduce waste generation through prevention, reduction, recycling and reuse.